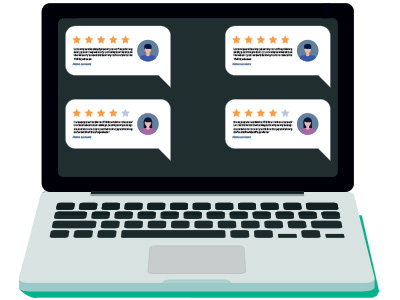 Written testimonials from some of our clients.
Client Testimonials
"Electric Vehicle Industry business processes are varied, complex, and still developing; hence when we evaluated multiple vendors; we decided to go with Excellon Software because of their deep understanding of and experience in the automotive industry, especially the DMS space."
Sheetal Bhalerao / COO, Ward Wizard Innovations and Mobility Limited. 
---
"Excellon provided a cutting-edge solution for our critical need in Enterprise-Wide Business Analytics and Reporting for our Sales & Distribution network. Excellon Solution and the team went beyond their call to help us find and fix critical issues in our operations and reporting. We now have clear visibility in the whole network, thanks to the work done by Excellon."
AK Patnaik / IT Head, Volkswagen Group IPL
---
"We have reduced the total cost of ownership with this solution. This optimization of IT infrastructure allows each franchisee's data to be stored securely, as if in a stand-alone application. Excellon's expertise is evident in the flexible architecture of their solution, which permitted users to continue working even if connectivity was temporarily lost. Also, the solution provided user-friendly features like a report configurator and a familiar Windows look and feel."
Mr. R. Srivachan / President, TVS, ASL
---
"We could not have picked a better solution than Excellon DMS (Dealership Management System) to the next step in our dealership software. Excellon DMS (Automotive Dealer Management Software) is a unique approach in automotive dealership managing system and delivers this approach in a very user-friendly and flexible manner. The service and support of Excellon have been excellent and we look forward to the future with Excellon support…"
Senthil Velan D / Automotive Dealer Management Software / DGM, Ashok Leyland Ltd.
---
"Vehicle Service area always being a challenge, is being managed effortlessly after the DMS implementation. Since the DMS implementation, the entire customer life cycle is at our fingertips. The user interface in EXCELLON DMS is one of the best we have ever implemented. Excellon's commitment to delivering on their promises and readiness for support whenever and wherever needed, make them the best vendor we have ever worked with."
Amit Singal / DMS Project Manager, Royal Enfield
---
"We are proud to say that we have partnered with an end-to-end solutions provider in Excellon Software, who substantiates our trust with complete backing on applications, rollout, integration, and support."
Mr. Dharmendra Mishra / Vice President, Sales & Customer Care Mahindra 2-Wheelers Limited
---
"Excellon Solution is the lifeblood of our business. We are completely dependent on it for every facet of our day-to-day activities. Excellon Solution's compatibility with Bajaj Auto's ERP system enables us to exchange data, error & hassle-free. Since last 5 years, Excellon Solution is helping us operate better, smarter, and more profitably."
Naresh Patni / Patni Automobiles, Bajaj Dealer
---
"We are extremely delighted to note that Excellon is stepping into 20th year. It's been a great journey with Excellon and we look forward to continuing this exciting partnership. Many congratulations to them on this significant occasion. We wish them many more such successful years and continue to excel in their journey of excellence"
R Varadarajan / Vice President, Bajaj Auto 
---
Our company adopted Excellon Dealer management solution quite recently. Excellon's expertise and knowledge in the automotive domain and especially the Electric Vehicle industry business processes are commendable. I sincerely wish the Excellon team many years of success and innovation. Happy anniversary!
Abhishek Sikka / Lead Product Manager, Ather Energy 
---
"Congratulations to Excellon for reaching an important milestone in their journey. Wishing you many more years of success and innovation. Great teams! Great people!!"
Asit Bhatnagar / Business Information Manager, AkzoNobel  
---
"Excellon's business model centers on creating long-term relationships with customers. It uses multiple methods to collect customer feedback and ensure that newly added features meet customer requirements. Excellon sees it as important to balance technology-driven efficiency with a personal touch"
Manish Bisht / Senior Research Analyst / Mobility, Frost & Sullivan
---
"Excellon DMS solution is the best system in the market. It's cost-effective, it's easier to use, and our employees like it. To me, that's what a DMS is all about."
Noella Eramanick / General Manager Sales / S K Automobiles
---
"With the Excellon DMS system, we can manage increased usability and control costs."
Patel Nikul / Owner, M/S KESAR AUTO AGENCY
---
"Excellon software has been a great partner for us. It's essential to have a partner in the technology space that's both forward-thinking and innovative that can bring market solutions that help us drive our business forward."
Vasant Patel / Owner, Bansari Automobiles
---
"The Excellon Software is really powerful but still easy to use, and it gives us better process management, which is always going to help with retention and customer satisfaction."
Vipin Adlakha / General Manager, Sun Bajaj
---
"We wanted our staff to focus on taking care of the customers. I don't want them struggling with the DMS, and the Excellon DMS solution is simple to use and allows my staff to focus on their jobs."
Raja Saha / Service Advisor, Manasa Motors
---
"Excellon Software is a big part of our dealership's success. It is a high-quality system, and the customer service we receive is just as excellent."
Partho Sen / Spare Incharge, Amba Auto Sales And Services Pvt Ltd
---
"Excellon Software is a big part of our dealership's success. It is a high-quality system, and the customer service we receive is just as excellent."
Sheikh Lal / DSM, Kolkata Auto Agencies Pvt Ltd
---
"Excellon software has been a great partner for us and has done fantastic work to support our business requirements.."
Rahul Singh / Service Advisor, Fiza Motors
---
"As we are fast scaling to new geographies with our dealer network we're thrilled to partner with Excellon Software and deploy their dealer management solution at our dealerships. This partnership will help our dealerships give a connected experience to the end customers and help Altigreen move closer to the customer than ever before."
Arun Maheshwari / CIO, Altigreen Propulsion Labs
---
"Excellon Software has been an outstanding DMS digital partner for last 4 years and look forward to many more years of engagement with them. Their industry knowledge, expertise, and support of our needs have made them a true partner. We are also excited to explore various digital solutions that Excellon is investing like Customer Data platform, Mobile apps, Predictive analytics is something we keenly look forward to."
Ashish Singh Joshi / CEO, Classic Legends Pvt. Ltd
---
"We were looking for a DMS product and company with a time-tested product,  quality support, and rich knowledge on OEM – Dealer dynamics. We found Excellon to be the best of the breed from various options we explored and trust would be our partner for next decade"
World's Top 5 Car Mfg Company / Head – Dealer Development